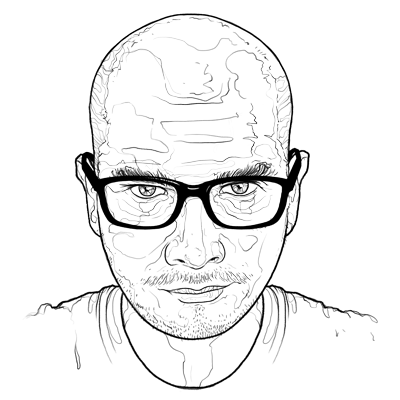 "There is something dark and slightly disturbing in Tavo's art, yet it's very sensitive and inviting, almost enchanting. I love the way he masters ink and pen, shaping dots and lines into impossible creepy creatures, or frozen and untouchable women. For me Tavo's style is a fresh and interesting take on old-school medical illustrations, tattoos and amazing Mexican art. His line is very clean and intelligent, the compositions and subjects just draw you in and make you think. "
Rotem Nahlieli, Creative Director Kazoo Creative, London, UK.
His name is Gustavo Díaz Montañez (a.k.a. Tavo Montañez). He is a freelance illustrator & graphic designer based in Mexico. His work tables usually consists of a lot of liner pens, pencils and coffee, but he loves to work with his Wacom tablet in Adobe Photoshop too. 
A conscious effort to make his work more broadly appealing in its tone has coincided with an increasing focus on his favorite way of creating images: he initially works with pencil and ink pigment liners, (sometimes in his Moleskine sketchbook) before the hand-drawn art gets edited and colored on his iMac. He also works with vectors, watercolor and colour pencils, and playing with custom-made typography and enjoys the composition in editorial layouts.

Whether it is a personal or a commissioned work, Tavo always aims to keep his work attractive and intriguing in terms of concept and technique. 
His personal life is fulfilled by his wife Libertad and his daughter Elisa, family, friends, sports, dogs, cinema and music
Publications and recognitions
150 ilustradores mexicanos de NFGraphics
Converse Music
Yuxtapoz Magazine
Viceversa Mag
Nice Fucking Graphics
Proyecto Postal
Design Blog
Cool Hunter MX
"Puro Machin" Colectiva de Ilustración Mexicana
Spacio Diseño
Creative Break Mafia
Skull Appreciation Society
Menos30 (Vértigo Galería)
Cartel Urbano
LEAD Advertising
McCann
Spoon
Teft Design
Cadena + Asoc.